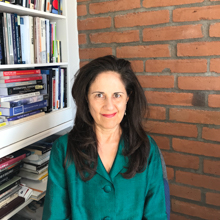 Job Title(s)
Associate Dean, Faculty Affairs and Inclusion
Professor, School of Government and Public Policy
E-mail
jrelly@arizona.edu
DR. Relly is the Associate Dean for Faculty Affairs and Inclusion in the College of Social and Behavioral Sciences. She serves as a member of the Dean's Leadership Team and collaborates on and oversees faculty recruitment strategies and retention efforts in the College. She also provides oversight on promotion and tenure processes, mentorship programming, and faculty professional development in the College. Dr. Relly works closely with the Dean and senior leadership on initiatives related to representation, equity, access, inclusion, and a culture of belonging across the College.
Dr. Relly serves as Director of Global Initiatives for the School's Center for Border and Global Journalism. She holds a courtesy appointment with the School of Government and Public Policy. Her research focuses on global influences on news media systems, government information policy, press-state relations, and democratic institutions, including freedom of expression and access to public information in countries that often are in conflict or in political or economic transition. Three of her most recent projects have focused on collective action and the influence of global networks or social movements on freedom of expression and access to public information.
She also has a line of research focused on formal and informal institutions related to democratic governance, including issues related to public corruption, whistleblower protection, and disinformation. Research with collaborators has been conducted in Afghanistan, India, Iraq, Mexico, the U.S., the West Bank, and Gaza. Her work includes more than a half dozen cross-national studies and a dozen single-nation projects focused on factors influencing democratic governance, such as information-access rights and various forms of insecurity. Dr. Relly was a recent Fulbright research scholar in India (2016-2017).
She currently serves on the Fulbright Specialist roster (2015-2020) and is a research fellow with Columbia University's Tow Center for Digital Journalism. She also has served as head of the International Communication Division of the Association for Education in Journalism and Mass Communication. Before joining the faculty, Dr. Relly worked for more than a dozen years as a journalist reporting in a number of states, the Caribbean, and the Mexico-U.S. borderlands.